---
Background:
Born and raised in Washington DC.
Annunciation Grade School, Gonzaga High School.
Came to Cambridge in 1972.
3 degrees from MIT (Architecture and Chemical Engineering).
Lived in Hingham, MA and Reading, MA (I highly recommend either if you can't live in Cambridge).
Returned to Cambridge in 1999.
Personal:
Married to Katharine Malcolm Stohlman and proud parent to Olive, Joe (CRLS 2004) and Jack (CRLS 2008).
Practicing architect, specializing in homes.
Practicing politician, avid hiker, photographer, videographer, lifelong learner (aka: nerd), and volunteer.
Priorities:
1) Be a good listener.
Govern by walking around.
Hold City Council meetings in all the neighborhoods.
2) Conserve what makes Cambridge great.
Keep proportional representation, city leadership by an elected City Council, and city management by professionals.
Adopt city policies which encourage respect and tolerance towards each other.
3) Change what isn't working.
Recognize that if City Government is unresponsive, it is the City Council's responsibility to change or clarify policy and help the City Manager implement the policy with clear and timely feedback.
Make it easy for people to be good citizens.
4) Lead by example.
Provide a helping hand when no one else will.
Make sure our public property is safe and well-maintained.
Civic Participation: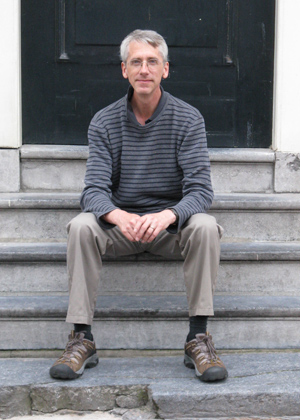 Cambridge 1972-1978
Voted in Cambridge Municipal elections.
Shoveled snow for free all over Cambridge after the blizzard of 1978.
Hingham 1979-1984
Volunteer member of the Accord Pond Watershed Committee.
Help develop and pass new zoning for the Hingham shipyard.
Town Meeting member.
Reading 1985-1998
Volunteer and tutor at Reading Public Schools.
Elected and appointed to Planning Board.
Lead the development of a Town Master Plan.
Elected Town Meeting member.
Elected School Committee member.
President, Friends of Reading Public Library.
Provided free architectural design services to the Reading Public Library.
Member New Firehouse Committee.
Member New Senior Center Committee.
Democratic Candidate for the Massachusetts House, 20th Middlesex District.
Cambridge 1999-2011
Superintendent's Budget Advisory Committee.
Provided free architectural design services to the Cambridge Public Library.
Morse School Council
Board member, Mount Auburn Neighborhood Association.
Corporator, The Cambridge Homes
High School Tutor at Tutoring Plus
ON THE ISSUES
Quality of Life:
This is a broad category which varies considerably from individual to individual. I can only speak for myself, but I need a good night's sleep, a full stomach, and a walk outside to feel like life is pretty good. If I can share that with others, even better. Shared with friends and family is the best. Government works best when it makes sure everyone has the opportunity to pursue a good life.
Urban Wildlife:
Rats and cockroaches, pigeons and bed bugs, seagulls and ants, if there are enough humans gathered in one place they will come, as they have for centuries. Government can make sure that the public is educated about the reasons for infestation and how to keep the populations in check without poisoning ourselves. It can also remind both landlords and tenants of their responsibilities, and keep neighbors from just passing the problem next door.
Noise abatement:
Everyone, even in the city, deserves a good night's sleep and peaceful enjoyment of their day. There are measurable limits to noise (and light) pollution which contribute strongly to most people's quality of life. The city has a pretty good noise ordinance (and needs a better light ordinance) which must be enforced.
Public Safety:
The Cambridge Police and Fire Departments have always been there when I've called. I feel safe in Cambridge. Everyone should feel this way and we have a serious problem as a community if they do not.
Traffic, Parking, and Transportation:
I live on a very busy street, one of the main arteries into the heart of our city. Traffic and parking are constant problems. I am fortunate to have a good, dependable bus line running down my street. The design of our streets and sidewalks should make it easy for motorists, bicyclers, and pedestrians to be considerate of one another. Enforcement is overwhelmed at times by the pressure to be inconsiderate (Examples: Inadequate parking spaces for commercial activity or new residences, it's cheaper, faster, and easier to take a car instead of a bus, it's hazardous to walk on poorly maintained public sidewalks, etc, etc.)
We can help each other by being more considerate. Individual action goes a long way to help everyone. Only the city can look at these problems as a whole and design the public ways well, maintain them in good shape, and coordinate with other cities, towns, and the state to improve the ways we move.
Grand Junction Railroad/Green Line Extension:
The existing Grand Junction Railroad Spur connects the Main Line from Western Massachusetts to Boston's North Station. The State proposes to use it as a way to get Western Mass commuters directly to North Station. I lived in Reading one block from the Main Line from Boston to Haverhill. I know a well-designed commuter rail line can connect us to other communities and join our neighborhoods together. Or it can just use us as a pass through and keep us apart. The current proposal does the latter and I oppose it for that reason.
In addition, I think the money used to upgrade the Line would benefit far more people in our community if it was used to help fund the Green Line Extension.
Municipal Finance:
Our government must be run by competent, professionals who use our money wisely, keep the policy makers well- informed of the real costs of their policy decisions, and maintain absolute honesty and integrity as keepers of the public's assets.
Budget:
Every year, when I review the budget, I will start at zero for every program, understand the purpose of the policy which created the program, the effectiveness of the program, and the long-term costs of the program.
Assessments:
Assessment are straightforward and well-established mathematical constructs. Property owners deserve fair and impartial evaluation of their properties.
Property Taxes:
The Council must be careful to recognize unexpected consequences of tax policy on the city's property owners and be willing to make sure that everyone pays their fair share.
Plan E Charter:
The strong City Council and strong City Manager system under the Plan E Charter has served Cambridge well for almost 70 years. Still, a regular review of our Charter is desirable and necessary as time goes on and the City changes.
Proportional Representation:
The best way ever conceived to insure that a government represents the voters, I would not change it. But it works best when everyone votes and that is an area that needs improvement. We must do a better job of encouraging all Cambridge residents to vote and removing the obstacles which keep voters away.
City Manager:
The City Manager should be an experienced professional manager. The City Council manages the Manager, the Manager manages the City. If the City is unresponsive to it's residents, it is the City Council who is responsible.
Staff for Councillors:
Everyone can use a little help, but I'm concerned if the expertise of the paid City employees and volunteer citizen boards isn't adequate or available for the City Council. It may be pointing to a larger problem.
Land Use, Planning, Zoning, Density:
I am an architect and a former Planning Board member (Reading, MA) who has developed Master Plans, worked with regional planning authorities, created Zoning law, and helped clients in a dozen cities and towns from Boston and Cambridge to Hingham and Andover navigate land use, planning, and zoning issues. I know what the words of a Zoning Law look like when made into real developments. I am a big supporter of mixed-use zoning and incentives for extra open space and affordable housing. That is, whenever possible, keep a healthy mix of residential, office, open space, and commercial properties. A proper mix saves energy, reduces crime, and improves everyone's quality of life.
Economic Development and Commerce:
These are essential to the fiscal health and livability of our city. There are costs which need mitigation (traffic, noise, pollution, urban wildlife, etc.), but the benefits (jobs, tax revenue) are enormous to every resident.
Human Services Programs:
It is often necessary, but always inadequate, for Government to provide aid to those who need immediate attention. Government must be able to extend a helping hand. But like fire codes reduce fires, and traffic lights reduce accidents, the City must also adopt policies with the goal of encouraging healthy families, strong neighborhoods, and personal compassion.
Youth programs:
Pools, youth centers, ice rinks, skateboard parks, etc. are all good. Opportunities for young adults to serve others while swimming, playing, skating, and skating are even better. I support community service in all forms.
Senior programs:
With a large percentage of the population under 30, it's hard not to feel young in Cambridge. A good meal, health care programs, and most importantly, a chance to share a long life with others will keep you young. Community service opportunities shouldn't stop at 30, either.
Open Space and Parks:
Cambridge is fortunate to have some great public open spaces, the Charles River and numerous private open spaces open to the public. When seen from space, the City is noticeably greener than the surrounding towns. Open space is the great equalizer, anyone can enjoy it. It's important to keep it green, litter-free, and encourage open space growth.
Recreation:
All work and no play makes Cambridge a dull city.
Energy & Environment:
The City can best lead by example and be ready with appropriate Zoning Law to encourage others to follow. The United States is far behind Europe and Asia with the use of fossil-fuel alternatives. Harvard and MIT can be the World leaders in providing new technologies. Cambridge should be the lab for MIT and Harvard's best energy and conservation technologies.
Public Health:
I support smoking bans, and the right of the public to know what they're eating and drinking.
Housing:
Cambridge has some of the best affordable housing opportunities in the Boston metropolitan area. I would keep it that way.
Arts:
Sharing ourselves through art is a leading indicator of our humanity.
Public Celebrations:
I prefer pot-luck, the City should provide the room and have revelers to bring the food, drink, and celebration. And thanks for cleaning up, too.
University Relations:
Town and gown are just like a family in the same house. We have to care about one another, even if we have different needs and personalities.
Civic Participation:
Declining participation will be the death of Cambridge. opportunities to participate in keeping our City alive and healthy should be positive and pleasant. No one should given an excuse to avoid it.
Cambridge Public Schools:
The School Committee is the elected body which sets policy for the Public Schools. I will remember that as a City Councillor. I know all the members and they know me. I will always be willing to pass a concern along in private and, if asked by the School Committee, speak up in public.
The Innovation Agenda:
The Cambridge Public Schools have proposed to change the current K-8 model to one which includes a Network of Campuses which specifically serve Grades 6-8. This was done as a response to thinning middle school populations at some schools, which resulted in uneven academic opportunities for the 6-8 population.
There simply wasn't the critical mass of students needed to offer a wider range of courses in some schools. I support this effort to bring all middle school students the "superior academic and social experience" which this critical mass provide.
More details daily at: www.tomstohlman.org
CCTV candidate video (2011)